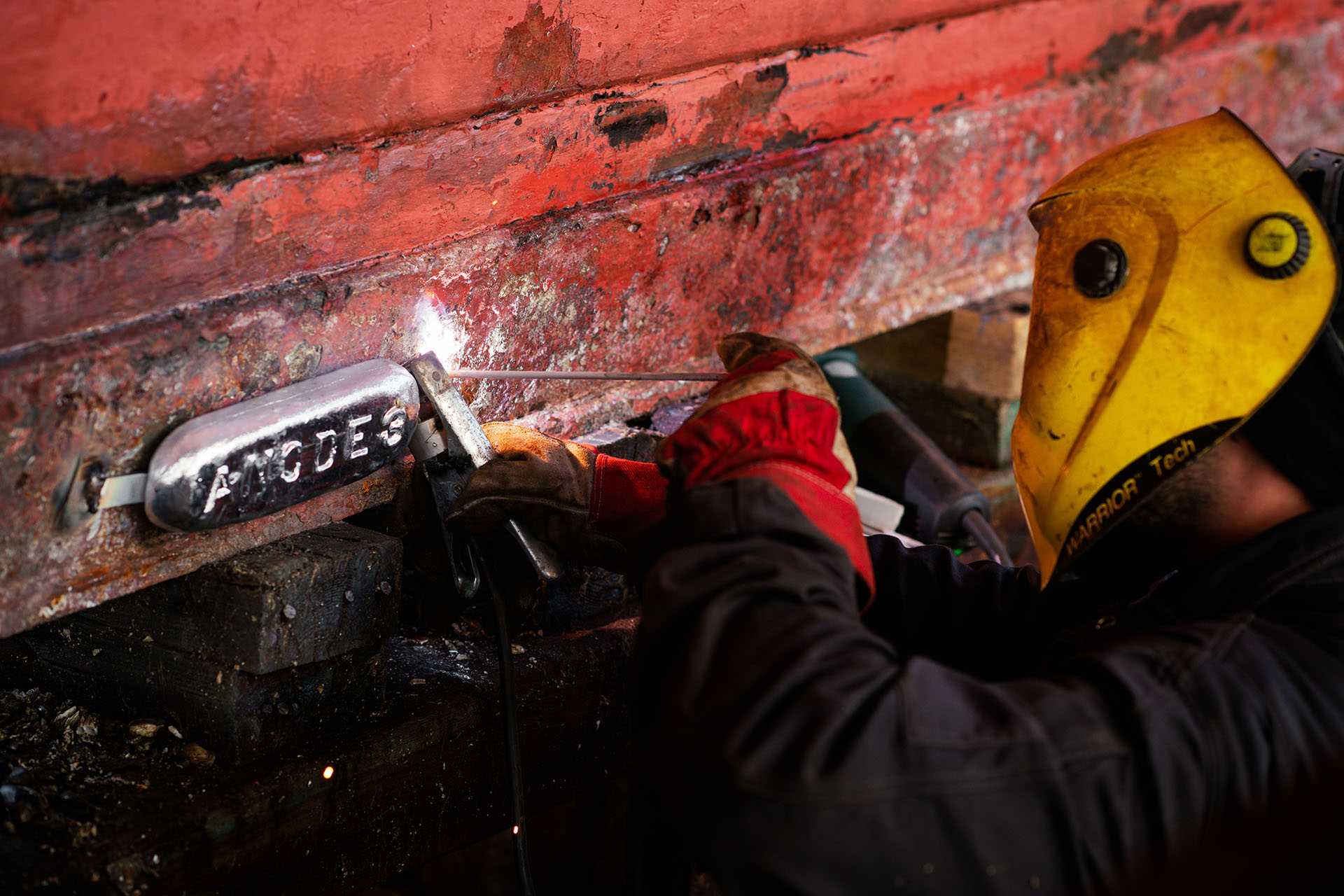 Frydenbø Industri Havøysund AS is a modern ship repair workshop, which has its history all the way back to 31 August 1935. With around 30 employees, as well as good partners, we have access to all the necessary expertise in the field of conversion, maintenance and classification of all types of vessels.
In recent years, the owners, the board and the employees have worked hard to develop the company to what it is today, and have invested in environmental cleaning, a boat crane with a capacity of 80 tonnes, a new tower crane, a boat hall and a large outdoor area. With previously built over dry dock of 50 mtrs, a large engine workshop, a plate/welding hall and a well-equipped warehouse/shop, everything should be in place for a flexible and efficient workshop stay for our customers.
We are known for our high level of expertise in ship repairs, but we can do much more:
We have sheet metal workers, welders, mechanics and surface finishers who carry out repairs/maintenance of hulls, engines, cranes and other deck equipment, and we manufacture equipment in aluminium, steel and stainless/acid-resistant material. Within electrical/electronics, we supply everything for both vessels and industry, and have our own electrical department with a well-equipped warehouse of consumables. One moment we have people on boats, before the next they are high above the ground in wind turbines, inside a fjord at fish farms, or at a base to work on servicing equipment for the oil/gas industry.
General inquiries
+47 951 12 033

24/7 phone
+47 951 12 033


Accounts
+47 97 10 70 93

General inquiries
ahk@frydenbo.no

Invoice
991442189@fakturapost.no
EHF-991442189
Opening hours
Monday - Friday 07:00 - 15:00


Visiting address
Strandgata 181, 9690 Havøysund
Workshop
Electrical workshop
Engine workshop
Shop and parts warehouse
Welding workshop
General facilities
Production halls 1000 m2
Boat shed 22.5 x 20 metres
Port boat hall H: 15 metres, W: 10 metres
Covered dry dock 50 metres
Dock
Dock position
Quay length 60 metres
Quay depth 6 metres
Crane capacity quay 12 tonnes
Tidal difference
Floating dock 25 meters
Cranes
Boat Crane
Max width 10 metres
Lifting capacity 80 tonnes


Tower crane
Lifting height under hook 35 meters
Lifting capacity 12 tonnes
Range 65 meters